So you've checked out the VirtualStapler and were impressed by its smooth handling... but now you want more variety?

Then donate to the VirtualStapler.com StaplerFund today! Any and all funds raised will go directly toward acquiring new staplers for VirtualStapler.com. Anyone who contributes will also get a place of honor on our Stapler Benefactors page, bringing worldwide fame and adulation from the millions of dedicated VirtualStapler users across the globe!

To donate today, just click on the large 'Click to Give' button below... you'll be taken to an Amazon.com PayPage for VirtualStapler. Just enter the amount you wish to give in the box to the right, and click 'Pay now!' Once you've given, please send us an email and tell us that you did... so we can give you credit on the VirtualStapler.com site.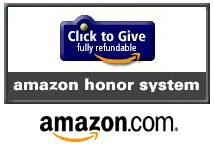 So please give today... the staplers will thank you for it. And besides, our collection of VirtualStaplers will expand, letting people waste more time than ever before!

Pretty cool, huh? Heck, this donation might even be tax-deductible... but really we have no idea. In fact, it probably isn't... but it should be!