Warner Bros. Directed by Marc Lawrence. Starring Hugh Grant, Sandra Bullock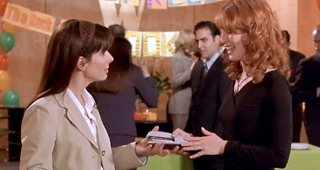 Throwaway Hugh Grant / Sandy Bullock romantic comedy that features both Sandra Bullock going aggro on a Swingline 747 and a fairly spirited girl-on-girl office spat centered around said stapler.
It also features some craziest, most inexplicable stapler behavior every caught on film. It self-locomotes, bi-locates, and generally ignores the laws of physics.
Some might say that this stapler possesses awesome power over space and time... others might say it just demonstrates a failure of film continuity. Either way, it's a mystery for the ages.